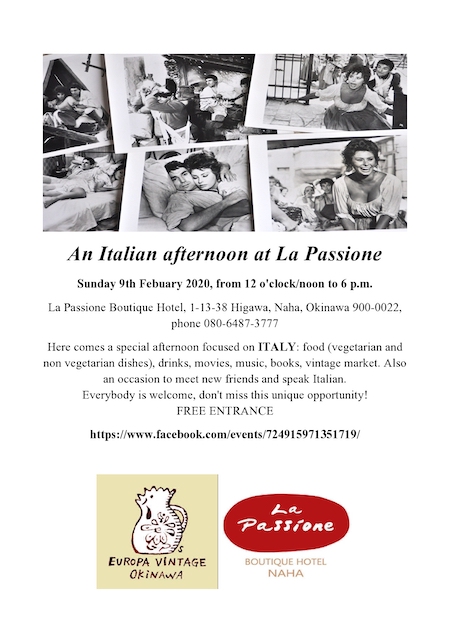 ヨーロッパと沖縄を結びつける3回目のイベントを行なう。 「ラパッシオネでのイタリアのアフタヌーン」。 食べ物、飲み物、音楽、ビンテージマーケット等があります。 新友達に会ってイタリア語で話す。
Here comes the third of a collection of micro-events that link Europe to Okinawa at La Passione boutique hotel, the most European-friendly place of Okinawa, in the center of Naha!
A special afternoon focused on one European country: food, drinks, movies, music, literature, photography, vintage market and maybe something else. Also an occasion to meet new friends and speak the language of the celebrated European country.
The third 'La Passione European afternoon' will be dedicated to Italy.
Everybody is welcome, don't miss this unique opportunity!
FREE ENTRANCE
At the event, besides some books and CD in Italian and English for sale, you will find several vintage goods from Italy imported by 'Europa Vinatage Okinawa'
https://europavintageokinawa.blogspot.com/
Yummy menu!
Chef of the day (afternoon) will be Pietro Scòzzari, serving vegetarian and non-vegetarian set dishes.
https://www.facebook.com/italian.cuisine.okinawa
PARKING:
La Passione doesn't have a parking space, but nearby there are coin parking lots.
If you come by monorail the nearest stations are Asahibashi, Kencho-mae and Asato (15 minutes on foot).
開催日:2/9(日)- Sunday, February 9th from 12 o'clock noon to 6 p.m.
場所:La Passione Boutique Hotel
1-13-38 Higawa, Naha, Okinawa 900-0022
https://www.facebook.com/LaPassioneOkinawa/
https://www.facebook.com/events/724915971351719/
http://pietrotimes.com/2020/01/12/2020-2-9-an-italian-afternoon-at-la-passione/