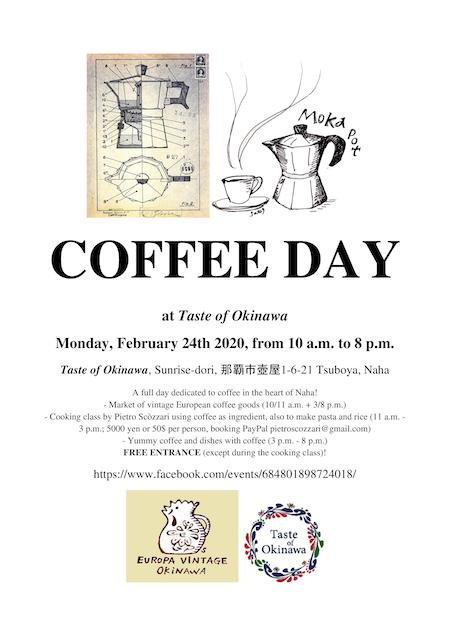 那覇、国際通りから商店街に入って行き、サンライズ通りにある「Taste of Okinawa」にて。
コーヒーな一日。
沖縄のコーヒーにまつわる特別販売も予定。
カフェにこだわるイタリアの、コーヒーにまつわるヴィンテージ雑貨も、この日限定で並びます。
入場無料
お気軽にお立ち寄りください。
A full day dedicated to coffee in the heart of Naha!
– Market of vintage European coffee goods (10/11 a.m. + 3/8 p.m.)
– Cooking class by Pietro Scòzzari using coffee as ingredient, also to make pasta and rice (11 a.m. – 3 p.m.; 5000 yen or 50$ per person, booking PayPal pietroscozzari@gmail.com)
– Yummy coffee and dishes with coffee (3 p.m. – 8 p.m.)
FREE ENTRANCE (except during the cooking class)!
Throughout the event you will find European coffee goods for sale imported by 'Europa Vintage Okinawa': coffee machines, grinders, espresso cups, mugs, milk jugs and much more!
https://europavintageokinawa.blogspot.com/
MENU (cooking class, fully vegetarian):
– Handmade TAGLIATELLE al caffè con sugo di panna, noci, pepe di Goa e parmigiano (Coffee fettuccine in cream, walnuts, Goa's black pepper and Parmesan);
– RISOTTO al caffè in salsa di zucca e rosmarino (Coffee risotto with pumpkin and rosemary);
– BANANE fritte con polvere di caffè e sakè (Fried bananas with coffee powder and sake);
– TORTA TENERINA al caffè (Soft cake with chocolate and coffee);
– ESPRESSO (Espresso coffee brewed in an Italian 'moka' Bialetti coffee machine)
Buon appetito!
Il cuoco (the chef): facebook.com/italian.cuisine.okinawa
PARKING:
A coin parking lot is just behind the school (Tsuboya).
If you come by monorail the nearest station is Makishi, 10-15 minutes on foot.
開催日:2/24(月・祝)- Monday, February 24th 2020 10:00-20:00まで
場所:「Taste of Okinawa」,
Sunrise-dori, 那覇市壺屋1-6-21 Tsuboya, Naha
https://tasteof.okinawa/
https://www.facebook.com/okinawacooking/
http://pietrotimes.com/2020/01/17/2020-2-24-coffee-day-at-taste-of-okinawa/
https://www.facebook.com/events/684801898724018/