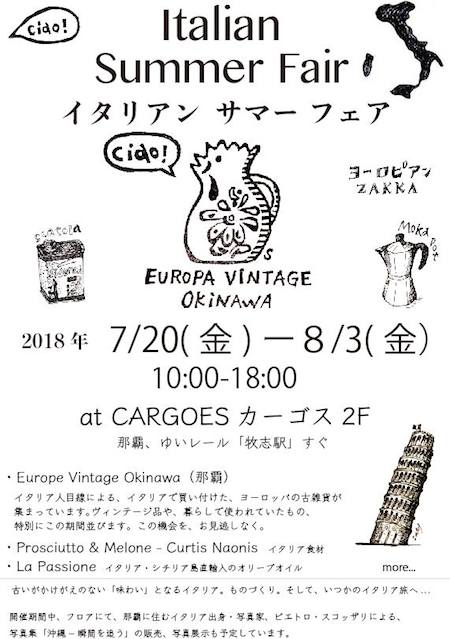 Here comes a very special event in Naha for Italy's lovers: a two-weeks summer fair dedicated to the 'Boot' Country and to Europe!
Food products (take-away), vintage goods and handicrafts, to find some unique gift and feel the European atmosphere in the heart of Okinawa. Entrance and air conditioned: free!
2nd floor, everybody is welcome.
At the fair you will find several tables with the vintage items of 'Europa Vintage Okinawa', imported directly from Italy. Here are some samples of the special objects you may find.
https://europavintageokinawa.blogspot.com/
www.facebook.com/europa.vintage
Pasta and sea salt from Sardinia, Italian flour, wines, liquors, beers, cigars, playing cards and muuuuuch more! At the fair you will find the Italian food products imported by 'Prosciutto & Melone – Curtis Naonis' (long name, I know) based in Itoman:
www.facebook.com/Prosciutto-Melone-Curtis-Naonis-生ハム-メロン-755377707901668
Don't miss the amazing extra virgin olive oil of Olivandro (Sicilia), imported to Okinawa directly by the Italian-in-Okinawa guest-house La Passione – limited bottles!!
http://www.olivandro.com/home.html
https://www.lapassione-okinawa.com/
Atelier Tibitoko and its cute handicrafts will be there!

http://sato9.jp/
During the two weeks of the event you will find a corner of the fair dedicated to the photo-book 'Okinawa – Chasing the moment' (texts in Italian, English and Japanese), for sale.
www.facebook.com/okinawa.chasingthemoment
PARKING
For the clients buying for over 2000 yen at the shop Lapis (natural essences, 'aroma' etc., 2nd floor) the parking will be free for one hour. Otherwise in the area there are plenty of 'coin' parking lots. The monorail station (Makishi) is just there, very convenient if you come on foot.
The supporter of this event!
どうもありがとうございます!!
www.facebook.com/LapisNaha
日程:
From Friday 20th July to Friday 3rd August
Everyday from 10 a.m. to 6 p.m.
場所:
Cargoes Mall, Kokusai-dori, few steps from Makishi monorail station
2 Chome-1-1 Asato, Naha, Okinawa Prefecture 902-0067
www.facebook.com/events/283225029084445
http://pietrotimes.com/2018/07/10/italian-summer-fair-at-cargoes/