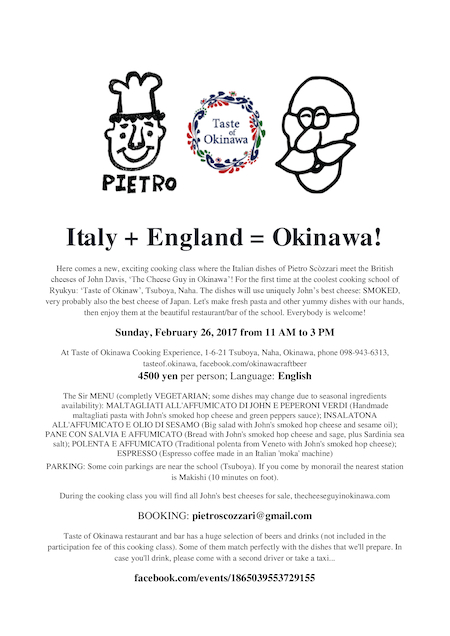 イタリア家庭料理のピエトロと、沖縄チーズGUYのジョンのワークショップを開催します。
国際交流+クッキングクラスの場を提供する那覇の壺屋・サンライズ通りにある「Taste of Okinawa」。沖縄クラフトビールも豊富に用意しています。
英語でのクラスとなりますので、実践的な英会話をご希望の方にぴったりの料理教室となります。楽しい時間をお過ごしください。
お申し込みはメールにて。
Here comes a new, exciting cooking class where the Italian dishes of Pietro Scòzzari meet the British cheeses of John Davis, 'The Cheese Guy in Okinawa'! For the first time at the coolest cooking school of Ryukyu: 'Taste of Okinawa', Tsuboya, Naha. The dishes will use uniquely John's best cheese: SMOKED, very probably also the best cheese of Japan. Let's make fresh pasta and other yummy dishes with our hands, then enjoy them at the beautiful restaurant/bar of the school. Everybody is welcome!
4500 yen per person
Language: English
Booking: pietroscozzari@gmail.com
The Sir MENU (completly VEGETARIAN; some dishes may change due to seasonal ingredients availability):
MALTAGLIATI ALL'AFFUMICATO DI JOHN E PEPERONI VERDI
(Handmade maltagliati pasta with John's smoked hop cheese and green peppers sauce)
INSALATONA ALL'AFFUMICATO E OLIO DI SESAMO
(Big salad with John's smoked hop cheese and sesame oil)
PANE CON SALVIA E AFFUMICATO
(Bread with John's smoked hop cheese and sage, plus Sardinia sea salt)
POLENTA E AFFUMICATO
(Traditional polenta from Veneto with John's smoked hop cheese)
ESPRESSO
(Espresso coffee made in an Italian 'moka' machine; NO cheese!)
The main dish will be MALTAGLIATI ('bad cuts', in Italian), a irregular shape of pasta usually left from shaping other kinds of pasta (i.e. tagliatelle/fettuccine). Perfect for soups (as 'pasta e fagioli', pasta and beans), they are delicious with many different sauces. We'll make them using semolina flour and shaping them with SPRONELLE, an ancient cooking tool that reminds the spurs. And the Guest Star of this cooking class will be John Davis' SMOKED cheese. 'Affumicato' in Italian, has an amazing rich taste that matches perfectly with many dishes.
Taste of Okinawa restaurant and bar has a huge selection of beers and drinks (NOT included in the participation fee of this cooking class). Some of them match perfectly with the dishes that we'll prepare. In case you'll drink, please come with a second driver or take a taxi…
PARKING: Some coin parkings are near the school (Tsuboya). If you come by monorail the nearest station is Makishi (10 minutes on foot).
開催日:2/26(日)- Sunday, February 26 from 11 AM to 3 PM
場所:那覇 Taste of Okinawa Cooking Experience
1-6-21 Tsuboya
Naha, Okinawa
phone 098-943-6313
https://tasteof.okinawa/
http://pietrotimes.com/2017/01/20/italy-england-okinawa/
https://www.facebook.com/events/1865039553729155/