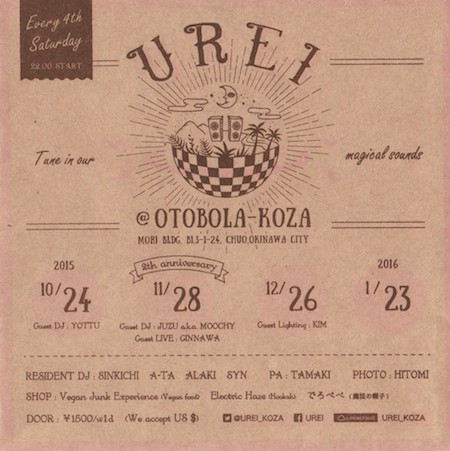 UREI
2016.1/23(sat)
@ OTOBOLA -KOZA – OKINAWA
Start:22:00
¥1500 / 1d
23時までにご入場
女性¥500 /1d
男性¥1000 / 1d
Resident DJs:
SINKICHI / A-TA / ALAKI / SYN
Sound:
TAMAKI
Shop:
SKY SMOKE
好評の温灸のSKY SMOKEが今月もやって来ます!
Vegan Junk Experience
曼荼羅のように配置された食材をダンスフロアで踊りながら調理をするサヨコさんによるヴィーガン料理店。
あまりの美味しさにリピーターが絶えません。
http://ameblo.jp/vegancasbahkoza6/
https://twitter.com/veganjunk
Electric Haze
移動式水タバコ屋さんです。魔法空間展開中。
http://electricstarryhaze.tumblr.com/
∞でろぺぺ∞
freedom hand made
ものづくりの神様が導くままに、糸に魔法をかけております。
https://www.facebook.com/deropepe8/
I'm sorry….
There will be no tit showing or twerking.
There will be no billboard hit song playlists.
There will be no "familiar faces" you see every weekend because it's in within your usual comfort zone.
There will be no specific genre to describe this party, because we will play anything and everything that sounds good.
There will be good music, yummy vegan food, tasty hookah, inspiring arts and crafts, and true music lovers! There will be uncategorizable free-spirited people, lots of smiles and much tequila toasting with friendly strangers. There will also be that moment when the dance music becomes something so important in your life once again.
This is because we are armed with the legendary mixer UREI 1620 and the Master Isolator DOPEREAL, plus hundreds of vinyls!!
Come see, hear and experience with your body as you reactivate all of your senses to feel the music.
UREI Facebook
https://www.facebook.com/pages/UREI/318142198339616
UREI Twitter
https://twitter.com/UREI_KOZA
UREI Mixcloud
https://www.mixcloud.com/UREI_KOZA/