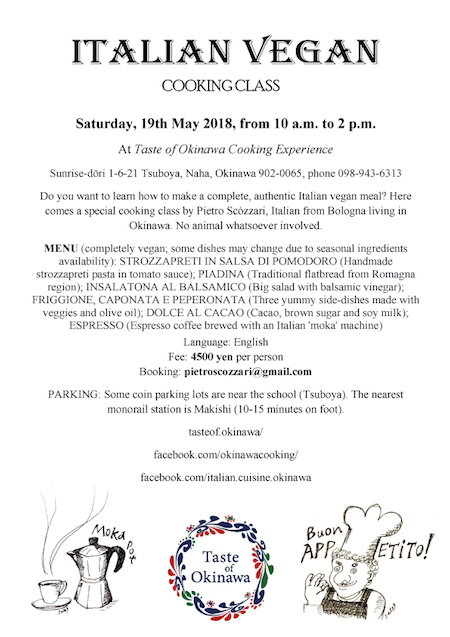 Do you want to learn how to make (and make your mouth enjoy) a complete, authentic Italian vegan meal? Here comes a special cooking class by Pietro Scòzzari, Italian from Bologna living in Okinawa. We'll make fresh pasta and piadina (flatbread) with our hands, three delicious classic side-dishes of the Italian traditional cuisine and much more. No animal whatsoever involved. Come hungry (as an animal)!
Language: English
Fee: 4500 yen per person
At least 5 participants, maximum 20
MENU (completely VEGAN; some dishes may change due to seasonal ingredients availability):
STROZZAPRETI IN SALSA DI POMODORO
(Handmade strozzapreti pasta in tomato sauce)
PIADINA
(Traditional flatbread from Romagna region)
INSALATONA AL BALSAMICO
(Big salad with balsamic vinegar)
FRIGGIONE, CAPONATA E PEPERONATA
(Three yummy side-dishes made with veggies and olive oil)
DOLCE AL CACAO
(Cacao, brown sugar and soy milk)
ESPRESSO
(Espresso coffee brewed with an Italian 'moka' machine)
Buon appetito!
開催日:Saturday, May 19 at 10 AM – 2 PM
場所:Taste of Okinawa Cooking Experience
1-6-21 Tsuboya, Naha, Okinawa 902-0065
https://www.facebook.com/events/184030135708727/
http://pietrotimes.com/2018/03/20/italian-vegan-cooking-class-at-taste-of-okinawa/